High Jewelry
Paraiba Tourmaline
Cuprian Elbaite tourmaline, also known as 'Paraiba,' is one of the most sought after collector gemstone's out there. This high jewelry collection features these rare and unique exotic gemstone that display a vibrant neon hue.
Inquire
In the manner of a Cabochon
Poseidon Ring
A vivacious, oval shaped, cabochon Paraiba tourmaline is coupled with brilliant white diamonds to showcase the rich neon hues of the tourmaline in this stunning ring. Each gem is nestled in place carefully and allow the stones to radiate, creating a flawless jewel that bursts with unparalleled color.
The Mark Henry philosophy of using legendary collector gemstones permeate this High Jewelry Collection. In the tradition of Mark Henry, we focus on highly unique, and often times unknown gemstones. We go where others don't dare with passion and confidence. Enoy this assortment of cuprian elbaite tourmaline as it is one of the finest and most extensive collections available.
HIGH JEWELRY
Selene Ring
Our Selene Ring is at the pinnacle of Mark Henry, as it binds master craftsmanship and the rarest gemstones together as one. A mesmerizing 8.34 ct. oval shaped Paraiba tourmaline rests at the helm of this modern marvel and is secured by double claw prongs. Two magnificent shimmering half moon diamonds cradle the center stone on each side while additional diamond pointers embellish the shank to complete the look.
Custom cut gemstone
Hexagon Ring
This spectacular one-of-a-kind ring showcases a custom-cut Paraiba tourmaline that is framed in a delicate mounting traced with a sparkling assortment of petite diamonds. The 3.12 ct. Paraiba tourmaline center stone is secured in place by contrasting yellow gold double claw prongs; a tasteful yet subtle design detail that will undoubtedly draw compliments. Embrace this opportunity to own something that has been masterfully crafted to showcase Earths truest rarity.

HIGH JEWELRY
Aegean Pendant
Named after the blue waters of the Aegean Sea, this pendant will cherished for years to come. This spectacular high jewelry pendant is anchored by a majestic 7.81 ct. pear shape Paraiba tourmaline that is topped by a stunning 1.00 ct. diamond. The simplistic nature of the design is intended to draw complete attention to the gemstones showcased in this high jewelry design.
Known for its intense neon blue and green hues, this member of the tourmaline family has distinguished itself as one of the most remarkable and rarest gems in the world. Its unparalleled colors are reminiscent of a crystal clear swimming pool and it is nearly impossible to replicate. An electric gem whose lucid glow is sought after amongst gem connoisseurs and jewelry aficionados alike.
HIGH JEWELRY
Diamond Dusted Ring
An electrifying, neon blue Brazilian Paraiba tourmaline is nestled at the heart of this timeless design that radiates with fire. Scores of brilliant petite white diamonds are littered along the outskirts of the center stone and shank in order to complement the unrivaled rich blues present in the magnificent tourmaline variety. This stunning ring is a perfect companion for those collectors looking for a one-of-a-kind heirloom.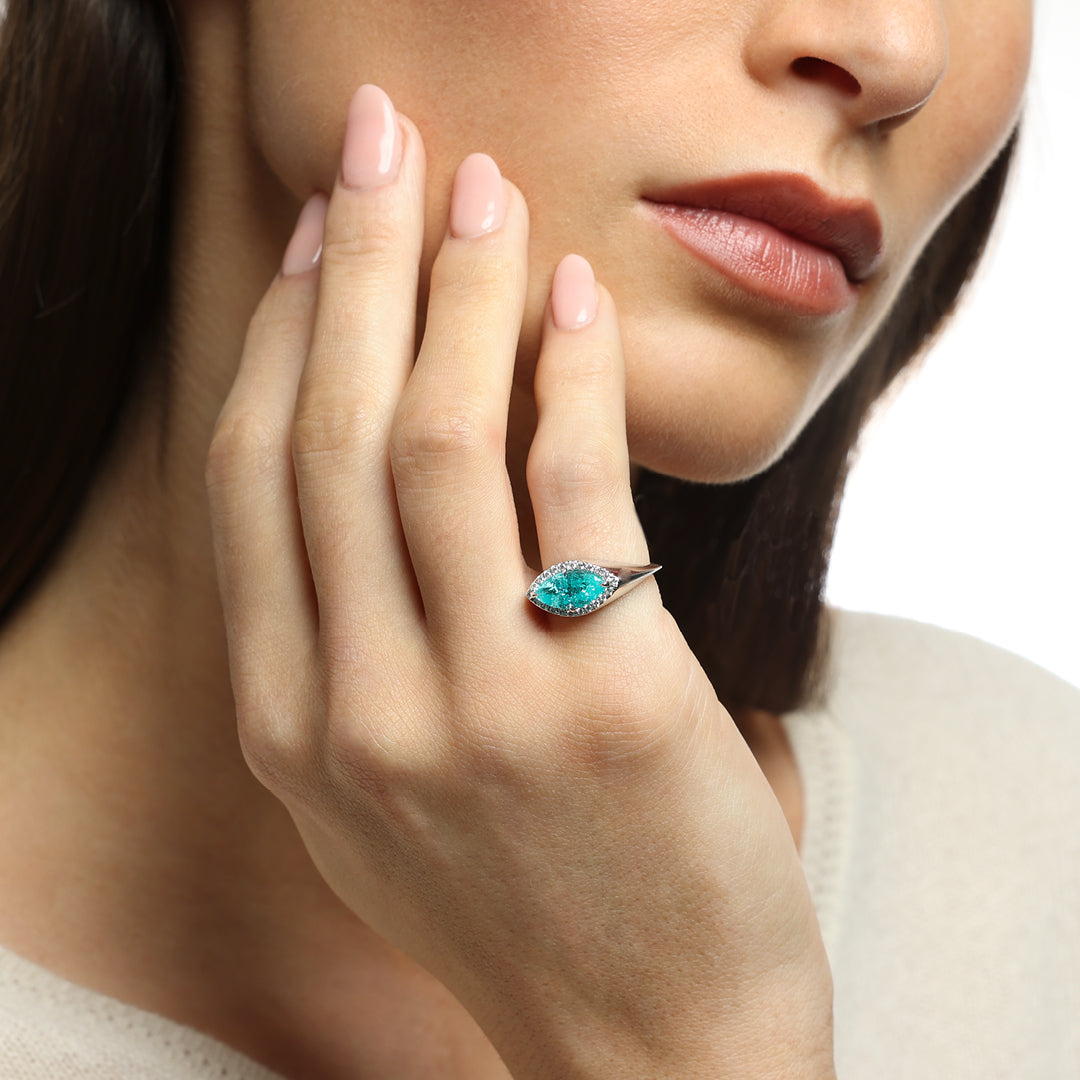 CONTEMPORARY HEIRLOOM
Protector Ring
A stunning, 2.25 ct. marquise shaped Brazilian origin Paraiba tourmaline is secured by four claw prongs and surrounded by a halo of glistening petite diamonds. The east-west orientation of the center stone and the knife edge shank gives the ring unique flair and a sleek, contemporary aesthetic.
LEARN MORE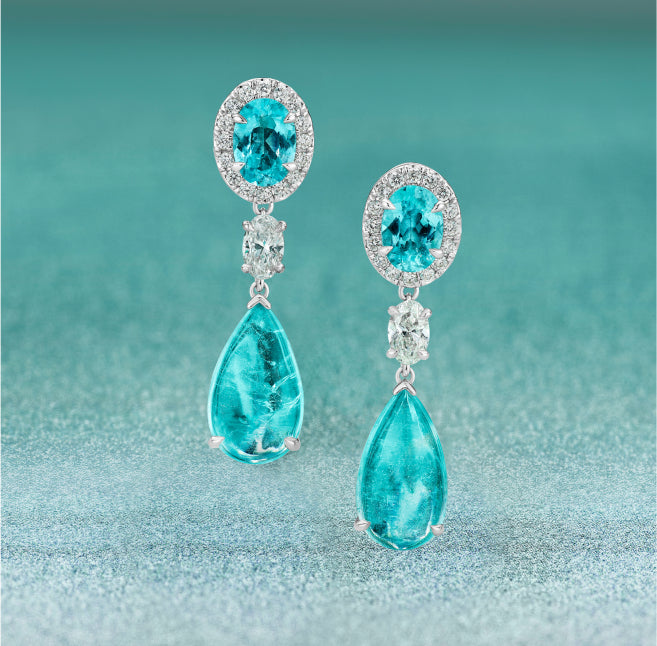 High Jewelry earrings
Neptune Drop Earrings
This masterful high jewelry design pays homage to the rich neon-like green and blue hues of the Paraiba tourmaline. A pair of splendid teardrop cabochons suspend gracefully below the lobe as they are topped by an array of shimmering diamonds and additional complementing Paraibas.
core collection
Paraiba Tourmaline Classics
Explore Mark Henry's Paraiba tourmaline classics collection. The designs are meant to evoke simplicity, elegance and timelessness. and features the highest quality Paraiba tourmaline perfect for everyday wear.
Explore Tourmaline Collection
Contact Us
MH Concierge
To inquire for more information about Mark Henry's Paraiba tourmaline high jewelry collection, please contact one of our specialists.
Speak With A Specialist

Free and fully insured UPS 2nd Day Air shipping

Free and fully insured returns within 7 days of purchase

Mark Henry branded gift box

Lifetime Service Guarantee

Carefully selected, elite gemstones
Naturally mined, ethically sourced materials
Speak to the MH Concierge
Call us to speak with one of our associates that can assist you with anything you need. We're available during the following hours.

Monday - Friday

Saturday - Sunday

(+1) 212-986-5700

ORDER BY PHONE

Alternatively why not speak to the MH Concierge right now
Thank you for getting in touch
One of our associates will reach out to you shortly.
CONTINUE BROWSING